ORLANDO, Fla., Aug. 22, 2023 (Realty Wire) — In July, Florida's housing market reported improving inventory levels (active listings) and statewide median sales prices consistent with values of a year ago, according to Florida Realtors®' latest housing data.
"Buyers and sellers in Florida continue be challenged by higher mortgage rates, which have been fluctuating around 7%," said 2023 Florida Realtors® President G. Mike McGraw, a broker-associate with RE/MAX Central Realty in Orlando. "In recent months, we've seen active listings start to increase and inventory levels improving, though we're still below what would be considered a balanced market.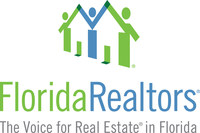 "However, more active listings would mean a wider selection of homes and more options for buyers, which could help moderate the pace of rising prices and ease affordability issues."
Last month, closed sales of existing single-family homes statewide totaled 22,198, down 6.4% year-over-year, while existing condo-townhouse sales totaled 8,463, down 9.4% from July 2022, according to data from Florida Realtors Research Department in partnership with local Realtor boards/associations. Closed sales may occur from 30- to 90-plus days after sales contracts are written.
"High mortgage rates this summer have continued to slow the annual rate of home price growth," said Florida Realtors Chief Economist Dr. Brad O'Connor. "The median sale price for single-family homes in July was $415,000, a 0.7% percent increase over last July's median of about $412,000. This price growth is slightly greater than what we've seen in recent months, but not by much. The median sale price for condos and townhouses, meanwhile, was up 4.6% to $319,000, which was its largest year-over-year gain since April."
The median is the midpoint; half the homes sold for more, half for less.
Looking at the overall housing data, O'Connor said, "Interest rates were on the rise throughout 2022, and as they increased, housing market activity declined. So, the deeper we get into 2023, the more favorable the numbers will look compared to 12 months ago. The real story so far this year is the housing market hasn't been in any big hurry to improve."
On the supply side of the market, single-family existing homes were at a 2.8-months' supply in July while condo-townhouse properties were at a 3.6-months' supply.
To see the full statewide housing activity reports, go to the Florida Realtors Newsroom and look under Latest Releases or download the July 2023 data report PDFs under Market Data.
Florida Realtors® serves as the voice for real estate in Florida. It provides programs, services, continuing education, research and legislative representation to 238,000 members in 51 boards/associations. Florida Realtors® Newsroom website is available at http://floridarealtors.org/newsroom.
SOURCE Florida Realtors